Description
We will stop accepting applications for this course on August 22, 2019. Please see here for details.
Manga Drawing / Advanced Story Writing
Learn how to create more interesting storylines and appealing characters.
VIDEOS: 11 lessons
TOTAL : 2h33m
FEEDBACK : 3 times
Feedback from Professional Instructors
Free registration
Mobile friendly
NOTICE
This English course offers ...

Video lessons with English subtitles.
Attachments in English.
Whiteboard descriptions subtitled in English.
Ability to submit your assignments in English.
Receiving feedback from the instructors in English.
SAMPLE VIDEO
< Description in whiteboard >
FREE
TRIAL>>
SUMMARY & GOAL
Someone being able to draw doesn't mean that they can draw manga.
There's a difference between drawing pictures and creating manga.
Drawing manga means to give stories expression using drawings set in a panel layout.
Our Manga Drawing Advanced Course is for those who already have some experience creating manga. It explains in simple terms what you need to think about and tips and tricks of the trade to make your manga more interesting.
In our Story Writing course, you will find lessons that use a sample manga to show you how to create your story and break it up into panels.

Course Goals
Creating 16-32 pages of original manga
This course is taught using an original manga based on the Japanese folktale "Momotaro".
Three tasks will be assigned, and in the end you will attempt to make your own original manga.
1) Character creation and plot. 2) Storyboard (manga blueprint.) 3) Manuscript completion.

For each task, we will tell you what to watch out for and advise you through corrections
how to make your manga even more interesting
.
In the lessons, professional manga artist Toyoji Kanemaki will use his life experience and practical knowledge to teach you
how to enjoy working on your manga until its completion, how to put together a story, how to create characters and how to make them appealing
, and much more.
This course will use the work of director and Japan Animation & Manga College (JAM) graduate Yoshi Katagiri's original 32-page manga "Momotaro's Adventure", which is based on the folktale "Momotaro".
Special feature 1: A professional course from an accomplished school!

Japan Animation & Manga College (JAM) has produced over 100 professional Mangaka (Manga Artists) since its opening. Now, you can take their classes in video form.
The classes are packed full of essence of the trade and workplace know-how you can't get from reading a book!
With this professional course from an accomplished school and taught by experienced tutors, you will not only gain motivation, but learn effectively and deepen your understanding of manga creation.

Special feature 2: Individual instructions from tutors with feedback! Create your own original manga and aim for your professional debut!

This course isn't just a series of videos for you to watch, you are also given three practical assignments by your tutors.
After you submit them, your tutors will give you feedback (advice on how to improve your skills) and grading results.
If you're a self-taught manga artist or studying with the goal to go professional, let us help you improve your manga creation skills and teach you how to resolve any issues you may have.
FREE
TRIAL>>
WHO THIS COURSE IS FOR
Those who want to learn how to make their manga more interesting.
Those who have tried creating manga, but had setbacks before completion.
Those who taught themselves to draw manga and would now like professional education.
Those who want to learn how to draw manga while working or studying.
Those who want to attend a professional school, but can't because of distance.
Those who want to attend a professional school, but can't afford to.
Those aiming to be a Mangaka (Manga Artist), writer, or character designer.
WHAT YOU WILL NEED
Manga supplies (specialized pens, pencils, paper, rulers etc) and/or illustration software.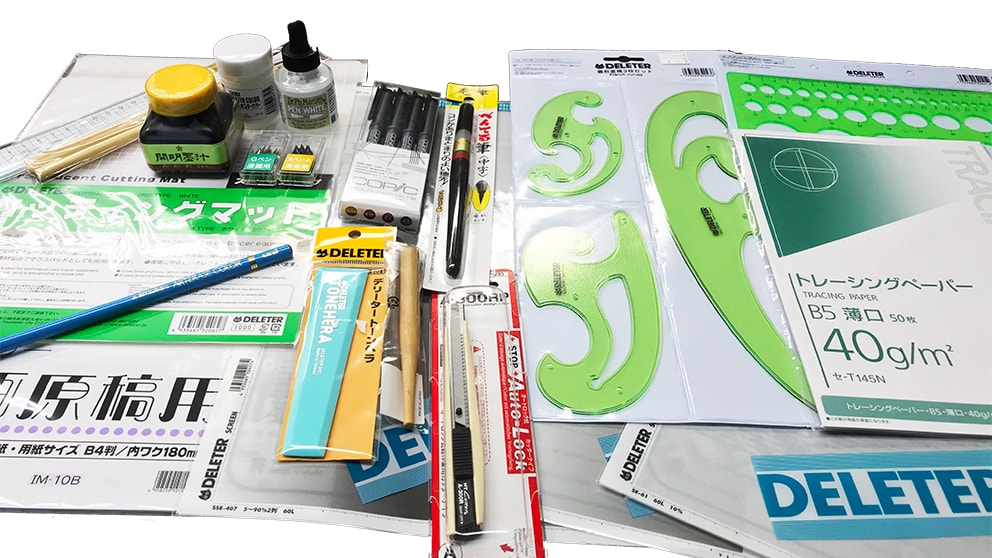 Example
*1
Although you do not necessarily need the indicated drawing tools, we recommend them because they enhance your learning experience.
*2
YYou can create and submit your tasks using the free trial of CLIP STUDIO PAINT by Celsys, Inc.'s or another software.
CURRICULUM
Getting Started: Course Introduction
04m52s
Tutorial 1
The Production Process & Jargon
07m45s
Tutorial 2
Page Composition
08m17s
Tutorial 3
Characters
11m39s
Tutorial 4
Basic Story Composition 1
07m27s
Tutorial 5
Story Writing 1
16m44s
Tutorial 6
Basic Story Composition 2
14m21s
Tutorial 7
Story Writing 2
42m09s
Tutorial 8
Character Profiles & Plot

Task 1

14m42s
Tutorial 9
Storyboard

Task 2

06m51s
Tutorial 10
Complete Manuscript

Task 3

18m27s
FREE
TRIAL>>
COURSE TERM
Standard Study Period : 6 months
* The deadline will be 60 days from the last day of standard study period.
COMPLETION REQUIREMENTS
Watch all the lessons.
Submit 3 assignments within the course term and get a passing score.
* If you fulfill the conditions above, we will issue a certificate (a sample image) located at "My Course ".
SUPERVISION

Japan Animation & Manga College (JAM) is...

An applied Professional Postsecondary Institution approved by the Ministry of Education, Culture, Sports, Science and Technology of Japan.
One of the biggest Manga College in Japan, with a high debut rate of professional manga artists (over 100!)
Certified on teaching beginner artists from basic level to professional.
Has a library with over 30,000 books on Manga learning.
Lots of students debut while in school.
Provides a fruitful curriculum to help you become a professional manga artist.
Gallery
Continuously Debut artists from JAM!
高橋 由美 / Yumi Takahashi
"Manga Drawing Advanced Course" Supervisor
Profile
GM from Manga & Animation Business Promotion Department of JAM (Present).
Former Vice Principal of Japan Animation & Manga College (JAM).
Artists Kei Natsumi, Naoki Kodama and Mia Katagiri are her former students.
Message from Yumi Takahashi:
Although reading manga is lots of fun, drawing manga is even more pleasant.
Of course, there are tough times, but that's what's fun about it.
I hope you can feel the fun of drawing manga.
INSTRUCTOR
金巻 とよじ / Toyoji Kanemaki
Mangaka (Manga Artist), part-time professor at Japan Animation & Manga College (JAM)
Background
After receiving multiple awards such as the Kodansha Newcomer Manga Award, had his work serialized in Shonen Magazine and Shonen King.
Currently working on a broad range of work such as a 4-coma manga serialized in Niigata Nippo magazine, "Talk a Walk."
SAMPLE MANGA ARTIST
The artist behind the example manga used in this course, "Momota's Adventure."

片桐 美亜 / Yoshi Katagiri
Mangaka (Manga Artist)
Background
Alumnus of Japan Animation & Manga College (JAM), Manga Creation Department.
A challenger searching for individual means of expression at her own pace.
Works
Kokaku Torimonochou (8 volumes total)/Asuka Comics DX
Yamato Ezoshi (1 volume total)/Asuka Comics DX
Tera Cafe Biyori (1 volume)/Asuka Comics DX
Tsuki ni Tsubame to Migi ni Kage (1 volume)/Asuka Comics DX
Message from Yoshi Katagiri
The world is evolving every day.
Don't get bogged down by stereotypes and do something you enjoy.
FREE
TRIAL>>
Tags