Description
Manga Drawing / Comprehensive - Standard A complete comprehensive course that will teach you how to draw Japanese-style manga.
With this course you will receive feedback from professional Japanese instructors. [Supervised by Japan Animation & Manga College (JAM)]
VIDEOS : 54 lessons
TOTAL : 11h32m
FEEDBACK : 5 times
Feedback
from Professional Instructors
Free registration
Free extension
Mobile friendly
NOTICE
This English course offers ...

Video lessons with English subtitles.
Attachments in English.
Whiteboard descriptions subtitled in English.
Ability to submit your assignments in English.
Receiving feedback from the instructors in English.
This course offers 5 feedback from professional instructors.
" Comprehensive - Light " course has no feedback.
* The main difference "Comprehensive Course (Standard)" has versus "Comprehensive Course (Light)" is that the Standard version has 5 feedback from instructors. In both versions, the lesson videos and attachments are all the same.
You are welcome to try out some of our videos and attachments in the "FREE TRIAL" course.
SAMPLE VIDEO
< Description in whiteboard >
FREE
TRIAL
SUMMARY & GOAL
A complete comprehensive course that will teach you how to draw Japanese-style manga. With this course you will receive feedback from professional Japanese instructors.
Being able to draw doesn't mean that you can draw manga-style professionally.
Drawing manga is different than just doing illustrations.
When drawing manga, your goal is to give stories expression using drawings set in a panel layout.
This course offers a curriculum that even beginner artists could complete. You will be able to start drawing your story in manga-style from the 1st panel to the last, even if you have never attempted drawing a manga once.
This is a complete "Manga Drawing" comprehensive course that will mainly explain how to draw manga-style panel layouts, tips on how to make a story with a manga-style, etc.
With this course you will be able to resolve issues you may be having, like:

It's difficult to make a short manga story because all the manga we see feature "long" stories.
You want to draw a particular scene but you are tired of thinking about how to get there and how to continue your story after that.
You have a complete story but have trouble drawing panel layouts.
In addition, in our lesson "Basic Drawing Tips", we will give you advice on how to make your story more manga-like and show you the tools professional Manga artists use when creating a traditional manga by hand. Our "Digital manga" lesson will explain what tools and programs manga artists are currently using to make manga.
The curriculum "Manga Drawing Comprehensive Course" is a complete course used to learn basic manga drawing in a general aspect.
Feature 1: Authentic curriculum supervised by a professional manga college in Japan!

This is an authentic curriculum from the Japan Animation & Manga College (JAM), which is one of the best manga college in Japan and has cultivated over 100 professional manga artists since 2000.
We will teach lots of know-hows and tips which can not be obtained by only reading textbooks!
Our courses are very easy to understand because our instructors are very knowledgeable and experienced. With their guidance you can efficiently learn how to draw manga.
Let's learn how to draw Japanese-style manga!

Feature 2: Feedback from the professionals! Properly learn the basics of drawing manga with the accurate advice.

With our course, you don't only watch the lesson videos, but are also assigned with 5 tasks in total. With these tasks you can get feedback and advice online from our professional instructors.
Using a combination of videos and individual feedback from your instructors, you'll be able to receive the proper guidance to become the manga artist you desire to be.

Feature 3: No additional fees! Available forever with just one payment!

Even if the course's term has reached the final date, its duration will be automatically extended for 90 days from the last login date for free by our "Free Course Extension " system. So, as long as you actively log in MANABI JOURNEY, you can keep taking your course indefinitely. Even if you're a busy person, you can learn with us. Keep coming back to your course to review lessons and participate in the Community even after completing the course!
This course will be helpful for both complete beginners and those who already have some experience drawing manga, as it will help you improve your basic manga drawing skills and resolve your problems.
The goals of each lesson are detailed below.
Manga Basic
Learn about panel layouts and character creation.
Learn to make a 16-page manga manuscript.
Basic Drawing Tips
Learn basic manga-drawing tips.
Learn how to use specific manga-making tools.
Learn how to create manga-like expressions for your characters.
Learn how to create a two-page manga manuscript with both characters and backgrounds.
Digital Manga
Learn the differences between creating digital and traditional manga drawings.
Learn how to use basic digital manga drawing software and how to export your work.
Reference 1: How to Use Drawing Software
Learn how you use "CLIP STUDIO PAINT", one of the most popular digital drawing softwares.
If you are interested in learning how to use this program, we recommend this lesson.
* These lessons are provided by Celsys Inc.
Reference 2: How to Draw Traditional Manga
Introduction of the tools and equipment used when drawing manga traditionally, and basic usage of these.
Note: These lessons are intended for artists who want to draw manga by hand. If you prefer to draw digitally, you can skip these lessons.
* Please check our special page for "Manga Drawing / Comprehensive" course
FREE
TRIAL
WHO THIS COURSE IS FOR?
People who would like to draw manga, but do not know how to do it.
People who have already drawn manga, but would like to learn from professional instructors.
People who want to learn manga drawing at their own pace.
People who prefer learning manga drawing through an institution.
People who would like to learn seriously, but there is no manga drawing institution in their country.
People who would like to learn in an institution, but give it up because of high tuition fees.
People who aim to be a professional manga artist, assistant or designer. (*)
* The main goal of this course is not to cultivate professional manga artists, but to learn how to draw manga-style as soon as possible.
WHAT YOU WILL NEED
Manga drawing tools (some inking pens, pencils, papers, rulers, etc) *1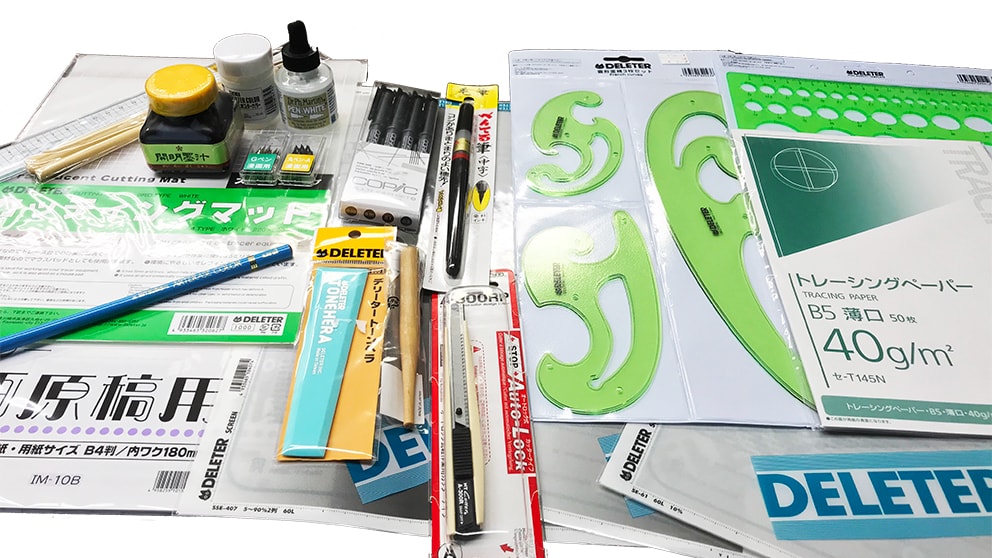 Example
*1
Although you do not necessarily need the indicated drawing tools, we recommend them because they enhance your learning experience.
*2
Our "Digital Manga" lesson requires the program "CLIP STUDIO PAINT (CLIP STUDIO PAINT EX: with free trial)" made by CELSYS Inc.
If you choose to use any other drawing software, it will be difficult to follow our lesson properly.
CURRICULUM
* The lessons displayed in
red letters
are part of our "
FREE TRIAL
" course.
| | | |
| --- | --- | --- |
| Foreword | Before Starting the Course | 02m51s |

Manga Basic
VIDEO : 16  

Task / 5 times

Getting Started
Course Instruction
07m05s
Tutorial 1
Manga Page Analysis
11m10s
Tutorial 2
Roles and Types of Panels
10m19s
Tutorial 3
Panel Layout Practice 1
08m52s
Tutorial 4
Panel Layout Practice 2

Task 1

05m16s
Tutorial 5
Panel Layout Summary
09m16s
Tutorial 6
Story Writing 1
13m32s
Tutorial 7
Character Creation 1 -Main Character and The Purpose
16m09s
Tutorial 8
Character Creation 2 -Minor Character

Task 2

07m41s
Tutorial 9
Application: World Building
07m21s
Tutorial 10
Story Writing 2

Task 3

08m58s
Tutorial 11
Storyboarding 1 -Basis of Page allocation
08m08s
Tutorial 12
Storyboarding 2 -Drawing a Name

Task 4

06m21s
Tutorial 13
Manuscript 1 -Pencil Outline
10m08s
Tutorial 14
Manuscript 2 -Inking Process
10m38s
Tutorial 15
Manuscript 3 -Finishing Touches & Corrections

Task 5

10m52s

Basic Drawing Tips
VIDEO : 13  

Task / 1 time

Tutorial 1
Straight Ruler Lines
12m34s
Tutorial 2
Curved Ruler Lines
10m55s
Tutorial 3
Character Lines
07m57s
Tutorial 4
Screentone
18m57s
Tutorial 5
Borders, Filling, White-out and Brush pens
15m56s
Tutorial 6
People and Motion Lines
11m10s
Tutorial 7
Natural Objects, Near and Far
16m18s
Tutorial 8
Man-made Objects, Near and Far
07m44s
Tutorial 9
Drawing Preparation
16m17s
Tutorial 10
Humans
19m16s
Tutorial 11
3D Shapes and Shadows
18m05s
Tutorial 12
Perspective
20m02s
Tutorial 13
Completed Manuscript

Task 5

11m53s

| | | |
| --- | --- | --- |
| Getting Started | Course Introduction | 05m29s |
| Tutorial 1 | Software Features and Basic Tools | 18m09s |
| Tutorial 2 | Sketching, Panels and Figure Tools | 19m17s |
| Tutorial 3 | Inking, Backgrounds and Perspective Ruler | 07m34s |
| Tutorial 4 | Composition, Effect Lines and Ruler Tool | 13m20s |
| Tutorial 5 | Fill, White-out and Screen Tone | 07m33s |
| Tutorial 6 | Inserting Dialogue and Exporting | 07m05s |
| Tutorial 7 | Course Introduction (Vertical Scrolling Manga) | 02m01s |
| Tutorial 8 | Understanding Vertical Scrolling Manga (Vertical Scrolling Manga) | 11m06s |
| Tutorial 9 | Storyboard Creation (Vertical Scrolling Manga) | 08m32s |
| Tutorial 10 | Drawing Pointers (Vertical Scrolling Manga) | 12m37s |
| Tutorial 11 | Conclusion (Vertical Scrolling Manga) | 02m33s |

| | |
| --- | --- |
| Reference 1: How to Use Digital Tools | VIDEO : 6 |

| | | |
| --- | --- | --- |
| Reference 1 | Let's get ready | 19m55s |
| Reference 2 | Let's create an illustration | 42m34s |
| Reference 3 | Let's create a manga 1/2 | 28m36s |
| Reference 4 | Let's create a manga 2/2 | 60m33s |
| Reference 5 | Creating a monochrome manga for print | 06m55s |
| Reference 6 | CLIP STUDIO PAINT useful features | 37m27s |

| | |
| --- | --- |
| Reference 2: How to Use Analog Tools | VIDEO : 6 |

| | | |
| --- | --- | --- |
| Reference 1 | Tools Name & Purpose of Use | 11m58s |
| Reference 2 | Manuscript Paper | 04m52s |
| Reference 3 | Using Tracing Paper | 06m52s |
| Reference 4 | Making a Double-Page Spread | 04m24s |
| Reference 5 | Desk Layout | 03m42s |
| Reference 6 | Using an Inking Pen | 07m54s |
*Please save one task from "Manga / Tutorial 15" or "Manga Drawing Tips / Tutorial 13" to send as your 5th (final) task.
*This course does not include guides about coloring because it is focused on techniques used in manga pages and the ability to show expression throughout a story.
<reference>
FREE
TRIAL
STANDARD STUDY PERIOD
12 months.
* This course is covered with "Free Course Extension System ".
COMPLETION REQUIREMENTS
Watch all the lesson videos.
Submit and receive 5 tasks within the course term.
* If you fulfill the conditions above, MANABI JOURNEY will issue a certificate (sample)in "My Course " page.
SUPERVISION

Japan Animation & Manga College (JAM) is...

An applied Professional Postsecondary Institution approved by the Ministry of Education, Culture, Sports, Science and Technology of Japan.
One of the biggest Manga College in Japan, with a high debut rate of professional manga artists (over 100!)
Certified on teaching beginner artists from basic level to professional.
Has a library with over 30,000 books on Manga learning.
Lots of students debut while in school.
Provides a fruitful curriculum to help you become a professional manga artist.
Gallery
Continuously Debut artists from JAM!
高橋 由美 / Yumi Takahashi
"Manga Drawing Comprehensive Course" Supervisor
Profile
GM from Manga & Animation Business Promotion Department of JAM (Present).
Former Vice Principal of Japan Animation & Manga College (JAM).
Artists Kei Natsumi, Naoki Kodama and Mia Katagiri are her former students.
Message from Yumi Takahashi:
Although reading manga is lots of fun, drawing manga is even more pleasant.
Of course, there are tough times, but that's what's fun about it.
I hope you can feel the fun of drawing manga.
INSTRUCTORS
児玉 直樹 / Naoki Kodama
Professional Manga Artist. Instructor of the "Manga Creator Course", Japan Animation & Manga College (JAM).
Profile
After being employed at a certain supermarket, he debuted with a robot-themed manga.
He is skilled in many different manga-drawing styles and is knowledgeable about their differences.
Message from Naoki Kodama:
Manga is an extension of doodling.
Everything starts from that.
Let's draw together casually!
伊藤 寛志 / Hiroshi Ito
Instructor in Japan Animation & Manga College (JAM).
Profile
Alumnus of Japan Animation & Manga College (JAM), Manga Creation Department.
After working as an assistant for multiple manga artists, he now works as a manga artist himself.
He is an expert in background perspective and loves motorbikes.
Message from Hiroshi Ito:
You can express yourself freely with manga.
There are also things you can only express with manga.
I hope you have fun studying!
SAMPLE MANGA ARTIST
Introduction of the manga artist and author of "Nekotaro"

夏海 ケイ / Kei Natsumi
Professional Manga Artist
Profile
Graduated from Japan Animation & Manga College (JAM).
Mainly works drawing the manga "Dragon Quest".
Debut work「I'm あ 総理 (I'm a sori) (3rd Manga Grand Prize of SQUARE ENIX: Semi-Grand Prize and Special Recognition Award by Hiroshi Arakawa).
Interview
Representative Works
王様の耳はオコノミミ (Osama no Mimi wa Okonomimi) (9 volumes) / SQUARE ENIX
うみねこのなく頃に (Umineko no Naku Koro ni) episode 1 - Legend of the golden witch (Drawing) (4 volumes) / SQUARE ENIX
うみねこのなく頃に (Umineko no Naku Koro ni) episode 3 - Banquet of the golden witch (Drawing) (5 volumes) / SQUARE ENIX
うみねこのなく頃に散 (Umineko no Naku Koro ni san) episode 8 - Twilight of the golden witch (Drawing) (9 volumes) / SQUARE ENIX
Message from Kei Natsumi:
Try drawing yourself, don't satisfy with just watching!
Starting to draw is the first and most important step of drawing manga!
FREE
TRIAL
Tags