Description
We will stop accepting applications for this course on August 22, 2019. But you can continuously purchase the courses at Udemy.
Manga Drawing Basic Course / Character Creation Course
Let's learn how to create characters who enrich your story!
VIDEO : 2 lesson
TOTAL : 23 min
TASK : 1 time
Free registration
Mobile friendly
SUMMARY & GOAL
This course is an excerpt from the"Comprehensive Course".
In "Comprehensive Course", the members challenge themselves to create original manga based on the Japanese folklore, "Momotaro".
We had Kei Natsumi-sensei, a manga artist, draw a sample manga called "Nekotaro" and they use it as a reference in our lectures.
Goal
You can create attractive characters while understanding each role of characters.
Feature of course
Full-scale lessons from a school that has produced over 100 professional manga artists
Receive video versions of lessons from Japan Animation & Manga College (JAM).
We provide all kinds of classes that many professional manga artists took themselves.
Get practical tips and insight into working as a manga artist that you can't get through self-study.
初心者からマンガ家を目指す人まで、マンガの基礎を学ぶ本格的講座
This course will be helpful for both complete beginners and those who already have some experience drawing manga, as it will help you improve your basic manga drawing skills and resolve your problems.
TARGET PERSONS
People who would like to draw manga, but do not know how to do it.
People who have already drawn manga, but would like to learn from professional instructors.
People who want to learn manga drawing at their own pace.
People who prefer learning manga drawing through an institution.
People who would like to learn seriously, but there is no manga drawing institution in their country.
People who would like to learn in an institution, but give it up because of high tuition fees.
People who aim to be a professional manga artist, assistant or designer. (*)
* The main goal of this course is not to cultivate professional manga artists, but to learn how to draw manga-style as soon as possible.
COURSE REQUIREMENTS
Manga drawing tools (some inking pens, pencils, papers, rulers, etc) *1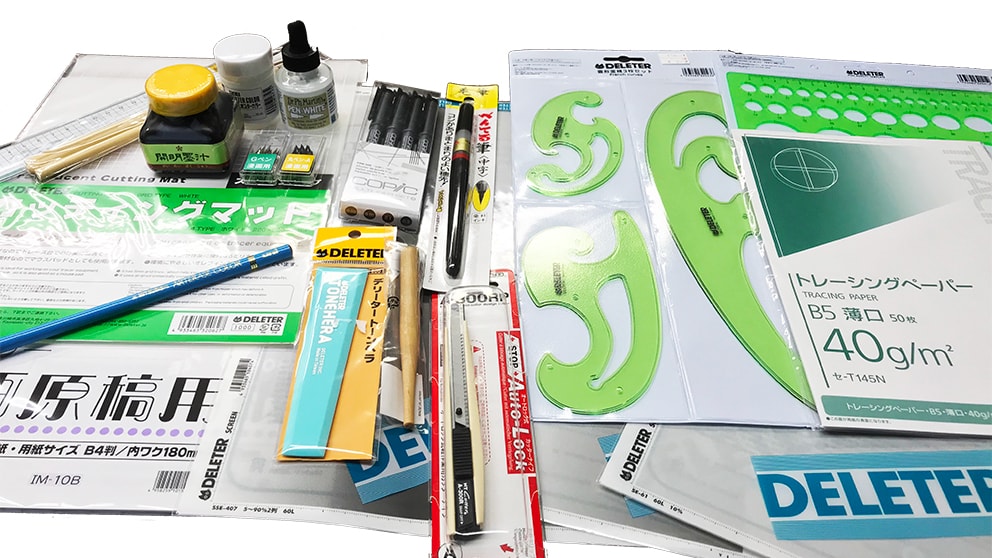 Example
*1
Although you do not necessarily need the indicated drawing tools, we recommend them because they enhance your learning experience.
*2
Our "Digital Manga" lesson requires the program "CLIP STUDIO PAINT (CLIP STUDIO PAINT EX: with free trial)" made by CELSYS Inc.
If you choose to use any other drawing software, it will be difficult to follow our lesson properly.
CURRICULUM
Character Creation
Course
VIDEO : 2

Tutorial 7
Character Creation 1 -Main Character and The Purpose
16m09s
Tutorial 8
Character Creation 2 -Minor Character

Task 2

07m41s
* You can not submit assignments and receive feedback from the pros, although there are tasks.
* This course is an excerpt of the "Comprehensive Course" so the lesson numbers are not consecutive. Thank you for your understanding.
<reference>
COURSE TERM
Standard study period:2 months
The deadline will be 60 days from the last day of standard study period.
PRODUCE & SUPERVISE

Japan Animation & Manga College (JAM) is...

An applied Professional Postsecondary Institution approved by the Ministry of Education, Culture, Sports, Science and Technology of Japan.
One of the biggest Manga College in Japan, with a high debut rate of professional manga artists (over 100!)
Certified on teaching beginner artists from basic level to professional.
Has a library with over 30,000 books on Manga learning.
Lots of students debut while in school.
Provides a fruitful curriculum to help you become a professional manga artist.
Gallery
Continuously Debut artists from JAM!
高橋 由美 / Yumi Takahashi
"Manga Drawing Comprehensive Course" Supervisor
Profile
GM from Manga & Animation Business Promotion Department of JAM (Present).
Former Vice Principal of Japan Animation & Manga College (JAM).
Artists Kei Natsumi, Naoki Kodama and Mia Katagiri are her former students.
Message from Yumi Takahashi:
Although reading manga is lots of fun, drawing manga is even more pleasant.
Of course, there are tough times, but that's what's fun about it.
I hope you can feel the fun of drawing manga.
INSTRUCTOR
児玉 直樹 / Naoki Kodama
Professional Manga Artist. Instructor of the "Manga Creator Course", Japan Animation & Manga College (JAM).
Profile
After being employed at a certain supermarket, he debuted with a robot-themed manga.
He is skilled in many different manga-drawing styles and is knowledgeable about their differences.
Message from Naoki Kodama:
Manga is an extension of doodling.
Everything starts from that.
Let's draw together casually!
SAMPLE MANGA AUTHOR
Introduction of the manga artist and author of "Nekotaro"

夏海 ケイ / Kei Natsumi
Professional Manga Artist
Profile
Graduated from Japan Animation & Manga College (JAM).
Mainly works drawing the manga "Dragon Quest".
Debut work「I'm あ 総理 (I'm a sori) (3rd Manga Grand Prize of SQUARE ENIX: Semi-Grand Prize and Special Recognition Award by Hiroshi Arakawa).
Interview
Representative Works
王様の耳はオコノミミ (Osama no Mimi wa Okonomimi) (9 volumes) / SQUARE ENIX
うみねこのなく頃に (Umineko no Naku Koro ni) episode 1 - Legend of the golden witch (Drawing) (4 volumes) / SQUARE ENIX
うみねこのなく頃に (Umineko no Naku Koro ni) episode 3 - Banquet of the golden witch (Drawing) (5 volumes) / SQUARE ENIX
うみねこのなく頃に散 (Umineko no Naku Koro ni san) episode 8 - Twilight of the golden witch (Drawing) (9 volumes) / SQUARE ENIX
Message from Kei Natsumi:
Try drawing yourself, don't satisfy with just watching!
Starting to draw is the first and most important step of drawing manga!